If you follow me on facebook, linked_in or twitter you will probably know that I have recently signed up to take part in a very special run in October.
The Himilayan100, is a 100 mile race on the border between India and Nepal, its staged over 5 days, and will take in running over mountains, across rivers, through tea plantations and jungles, and on the third day will also include the 'everest marathon'.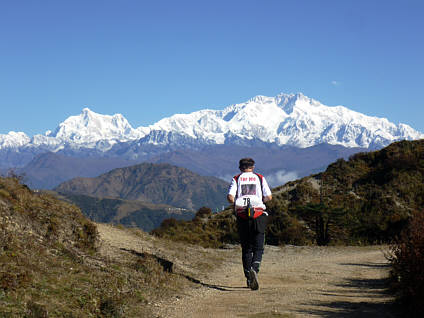 While its called a race, its actually more of a personal challenge, and it will certainly be the hardest physical or mental challenge i've ever taken on. I'll be facing not only the distance and the tough terrain of the Himalaya's but also the altitude, starting in the mountain village of Mirik at 6,500 feet and rising to 12,500 at its highest point, where the lack of oxygen will make it extremely difficult to breath let alone run.
So why on earth would an otherwise quite ordinary person take on such a challenge? Well over the past few year I have lost both my Mam and my Mother inlaw Brenda to Cancer, and seen several close friends battling with various Cancers, and I have always said that i should do something to raise both money and awareness for Gynaecological Cancers in particular.
The problem was that both my Mam and Brenda were such inspirational ladies, and showed not only an incredibly dignity but also bravery in their fights against cancer, that finding an event worthy of representing their cause, was not easy.
When i was younger i used to run with my mam, so we thought a sponsored run would be an appropriate event, but which one to do. We spent many hours over a couple of months searching the internet for a suitable run, then eventually Lucinda found the Himalayian 100 mile race. The run is not organized by a charity, so we are paying for the run, and all of the travel and other expenses ourselves, so we can be 100% certain that all of the money raised will go direct to the Eve Appeal (the charity we've chosen to support).
Gynaecological cancers are the world's fourth largest cancer killer of women. Every year a million women are diagnosed with a gynaecological cancer worldwide. In the UK, 18,000 women are diagnosed and nearly 7,500 women die every year. And yet, awareness and funding of gynaecological cancers remains low.
The Eve Appeal is determined to change this by funding vital research focused on developing effective methods of prediction, detection, treatment and care that will help save women's lives not only in the UK but throughout the world.
World-leading research is complicated and challenging, but supporting the my run and the Eve Appeal couldn't be similar. Simply click here and donate a couple of pounds, and help us achieve our goal of a future where fewer women develop and more women survive gynaecological cancers.
I'm also looking for corporate sponsors, so if you own or manage a business and would like to know more about corporate sponsorship please get in touch.