I remember watching a video of one of the big american ultras a couple of years ago,  I can't remember  if it was the Western United States, Badwater or Leadville, what I do remember was it wasn't the amazing scenery or awesome performances of the athletes that caught my attention, but the bags these guys were wearing. I'd never seen anything like them.
Before moving over to ultras I'd been a fell runner where the minimum race kit generally fitted into a bum bag and for longer races most people wore lightweight rucksack (such as the omm 12l). While designed for running bags like the OMM generally follow a traditional design with a waist belt most of the capacity being in the main compartment on the back. I'd always struggled with this design from the point of view of not being able to easily access the food and drinks on the go. On the downhills I was going far too fast to even think about grappling around for a bottle from the pouch on the back of the pack, while on the slower uphills sections I simply didn't had the energy to even consider taking my pack off to find a gel or energy drink.

The idea of a pack where the weight was split equally between the back and front, where I would be able to reach drinks, gels, energy bars and even my phone, made complete sense. The only problem back then was no-one in the uk was stocking them and you rarely saw one on the trails. The Salomon slab was one of the first and was priced at around £150, which was  a bit of a gamble for a bag you couldn't even try on before parting with your cash. Over the next few months I saw perhaps 1 or  2 starting to appear on the fells, then I found the UltrAspire website –  there packs/vest had a very similar style but were about half the cost of the SLAB. The Ultraspire Surge looked perfect and was something I simply had to get my hands on. The package arrived in the post a few days before the Hardmoors 60, and at 8 litres I wasn't sure I'd get the entire compulsory kit list in, but after playing around with my race kit for a while and experimenting with putting bits and pieces inside dry sacks stuffed into the expansion slots I managed to fit it all in. Since then I've ran the Allendale, Hardmoors 55, Cotswold 100 and Montane Lakeland 100 with it. I still use my Berghaus for the commute to the office where I need extra space for a towel and a change of clothes, but I rarely use anything else for running ultras.
These days practically every other person you see at an Ultra is running in a vest or pack of some description. That being said you still don't see many on the shelves of high street stores like Blacks or Start fitness, but specialist running stores are now starting to stock them, even Cotswold Sports will order a Salomon pack in for you to try before buy it. The number of manufacturers producing ultra vest/packs and the number of models that are on offer seems to be increasing on an almost weekly basis. Salomon, Ultimate Direction, UltrAspire, Nathan, Raidlight and Camel Bak all already include ultra vest/pack in their ranges and rumour has it that Montane, Inov8 and Northface all look set to launch their own take on ultra vests/packs in the first quarter of 2014.
With all this much variety on the market and more and more people stepping up from marathons to ultra running, we're seeing more and more discussion on on- line forums about which vest is best, so I thought it was about time I took another look.
I started off drawing up a list of features: capacity, weight, number of pockets front and back, materials used,  price etc then I went through each of the manufacturers and drew up a comparison. I put it all this information into a speadsheet and shared in on google documents. You can it find here: Ultra Vest Comparisons 2013 But the stats alone does't really give you the whole story, what looks good on paper doesn't necessarily translate to what feels good on a run. I would love to say that I'd had the opportunity to take them all for a spin and could tell you first hand what did and didn't feel good or even which was my personal favourite, unfortunately though I've not got enough money to burn to go out and buy one of each nor am I a good enough runner (or writer for that matter) that manufacturers send me out demo packs. So I've had to settle for speaking to friends that run in the various vest and asked what they think of them.
Lets start with the UltrAspire Surge, which is the vest I have been running with for the last year.  Its probably the smallest race vest around that you can actually get the full mandatory kit into even for a hundred at around 8L. In order to get mandatory kit into it, I have to forgo the bladder, I tend to use a 750ml bottle on the front right, the zip pocket on the left for my phone, head torch and mp3 player, leaving adequate room in the the mesh pockets  for gels, flapjacks and other treats, all of which I have easy access to while running. The 2 side straps and 2 chest fastenings allow you to move the position of the shoulder straps across your front so you can put the water where its most comfortable. The expansion pocket works well with the fastening on the main pocket allowing  you to clip dry sacks into the pocket and ensuring there is no movement in the vest or gear. On the negative side its just little things, like the zip pocket being a little too short for modern mobiles (making it fiddly to get something like an iphone 5 in there) or the fact that the main pocket is a little narrow in the opening so I struggle to get in to find things without taking it all out. Like most vests, it isn't waterproof, so if it rains everything's wet, and while I've never had a problem with them (even in shockingly cold conditions)  it feels feel like the chest strap hooked fastenings could be fiddley with cold or wet fingers. I really do rate this vest and think it's excellent value for money.
When it comes to advice on race vests, there's not many people more qualified that Jonathon Steele, Jon is not only Race Director of the Hardmoors Series ,but also recently ran 52 ultra's in 52 weeks and is a fellow presenter on the BritishTrail Running Podcast.
Jon currently runs in a Salomon skin pro 14+3 set, but has been around long enough to remember running in the North Face Hammerhead, the OMM Ultra, the Camelback Mule as well as the good old days of side pockets you had to be double jointed to get to and who could forget the OMM water bottle holders that you fitted on your rucksack straps. He reminded me of how mad they drove you bouncing around as you ran – I think I would have just been happy working out how to attached them!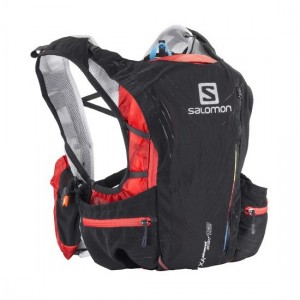 Unlike the Salomon SLAB 12 the 14+3′s bottle holders will allow you to hold a standard bottles in place and the large mesh pockets on the side of the bag are easily within reach and hold quite a bit of gear. Jon found that there was little to no no movement while running and that the pack was adjustable enough to get the right fit even with the bag empty. So great for short runs too and it does look pretty cool!
On the downside, it is expensive (but as he points out most vests are, other than string ones!), the main compartment can be difficult to get to and the Chest straps can be a bit awkward to fasten (especially while wearing gloves). Finally he felt that if the side pockets had zips similar to the SLAB 12 he'd have more confidence with putting things in them.
Jon finished by saying that the Salomom 14+3 is the best pack he's ever owned (as well as being the most expensive)!
Next up is Andy Holohan, Andy is a fellow 'middle of the pack' runner, but has been making his way up the results lately. I met Andy during last year's Montane Lakeland 50,  and have been following his adventures on line for a while. Andy runs in an Ultimate Direction PB, and was kind enough to share a few observations with me. He also published an excellent review on his blog ultramadness.
The bottles on the chest are great for easy access, the water sloshes around a bit but you get used to that. With 2 bottle holders you have the ability to carry water in one and electrolytes in the other! You may want to watch the weight distribution as you drink your water though. There are plenty of other front pockets as well as the bottle pouches that make grabbing food on the go easy , and still leave room for money,a gps and Phone (Like the surge the iPhone 4S fits, but Andy said he would be surprised if the iPhone 5 did!) There are a set of side bellows with Zipped pockets and compression mesh suitable for stashing waterproofs, but these can hard to access while running. The vest has a set of pole attachments, but Andy uses mountain king poles that collapse and don't fit the pole straps the way they are  supposed to work, however it he found it just as easy to slip them under the bungee straps on the back, allowing easy access. Sounds like the Ultimate Direction was a big hit, with plenty of storage and apparently if that wasn't enough there are also lots of elastic loops to pull buffs or rolled maps through, so you won't be short of places to stash stuff where actually be able to use it!!
While the Ultimate Direction signature series all look very similar in terms of styling, each is designed in partnership with an athlete at the top of their field. The list including people like Anton Krupicka (AK) a very minimalist runner, Scott Jurek (SJ) an Ultra runner and Peter Bakwin (PB) an all round adventurer. Each athlete imprinting their own running style on their particular pack, the styling carried through in the fabrics, pack capacity, the number of pockets, the positions of the pockets and ultimately the packs cost and weight.
Also running in an Ultimate Direction pack is Darren Gillman., this time the SJ version, designed by ultra legend Scott Jurek. I met Darren during this years Lakeland 100, where I got to see both Darren and the pack in action for a good bit of the weekend.
Darren thought the SJ was an incredibly light but robust pack, with ample capacity to hold the mandatory race kit (as the material is very stretchy), but said packing it all in was a bit of an art, working out which kit to put in which of the various pockets took several goes. In use the pack was incredibly comfortable and the front mounted water bottles were a revelation, although he agreed with Andy about the sloshing. On the downside Darren experienced some problems with chaffing around the side of the chest/armpits. Despite the chaffing which apparently didn't affect him during the race, but left him looking like some one had had a go at him with a power sander when he took the pack off, it is still his ultra pack of choice. So much so that he's stopped looking at other packs, and that from a real kit junky!
Finally we have Tony Holland. Tony's been Ultra running for a couple of years now, and does much of  his running for charities. When it comes to running kit Tony really knows his stuff, so much so that he's  set up his own online store ultra-runner.com/ (the store also generates extra income for his chosen charities). I met Tony a couple of years ago running 'the Wall' from Carlisle to Gateshead, since then  we've ran together at the Hardmoors 55, and Lakeland 50 amongst others.
Tony has been running in a Nathan Vapour Wrap and has been good enough to share a few thoughts with me,  …. Tony's store ultra-runner.com offers a range of Nathan, Ultimate direction, UltrAspire and Salomon Vests and he has kindly offered to let readers of the blog use promo code DAVID10 to get 10% off any of the race vests until the end of September. (Actually I think that code will work on anything on the store…but don't tell Tony I told you!).
In Tony's word "the Nathan is a good all rounder, that just keeps giving!!". He felt that while both the Salomon SLAB 12 and the Ultimate Direction PB felt fantastic empty, when you load them up they start to get pulled out of shape and begin to feel awkward, whereas because the Nathan allows you to pull the whole thing tight, you get a great fit whether full or empty. He found that the lat pockets were easy to reach with plenty of space and that there was room to store his Mountain king Poles just behind the lat pockets (like most packs the Nathan was really designed to carry the longer poles).
On the downside he found the large removable pocket could be a pain and it sometimes got in the way, he also felt that the yellow on the pack attracted the bees and wasps and suggested that the next version should have a larger improved removable pocket with added stuff pockets on the sides of the bottle holders (similar to the Ultimate Direction).
Tony's parting words were that if he was going to go with just one race vest it would be the Nathan, but to remember that a race pack was really always a work in progress as each race is different and a pack that works for one may be a pain in the next.
If there are any manufacturers or designers reading this, a couple of features I'd love to see included in future vest designs would be a soft pocket or loop set where I could stow away my sunglasses during the night when I'm not using them, and possibly a few points on the back of the pack where you could safely pin a race number without risking the pins hitting the bladder or getting caught up in the bungee fastening…and if you do fancy sending me any samples to try out I'm more that happy to give them a go.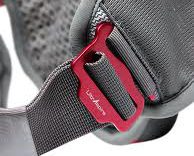 It seems that all of the vests/packs we looked at were universally liked (none of us were in any hurry to change the packs we were using, although Tony being the gear Junky that he is, has several and uses different packs for different races) . I certainly love the minimalism of the UltrAspire Surge, that being said I haven't actuallyran in any of the others. A huge thanks to my friends Tony Holland, Darren Gillman, Andy Holohan and Jon Steele for taking the time to give me some insights into the ultra vests/packs they have been running in.
In finishing I have to say if you were looking for me to tell you which vest is best or even just to narrow the field a little, you're going to be sadly disappointed. What I can however say is that the main criteria for me in choosing an Ultra pack are the fit and the accessibility of the bottles/pockets on the front, but others may be more interested in overall capacity of the pack, access to the bladder or storage for poles. The upside of all this choice is that there are more options available than ever before so whatever your requirement (or budget) there is a pack out there for you…you just need to find it!